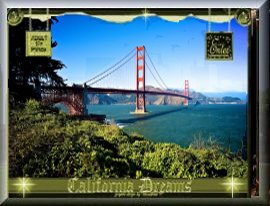 The road to happiness begins at
California Dreams
around the bend, you will find MANY
rooms about California,nature, games, adult section,
wizard class-automated prop and authoring classrooms,
our roller coaster, our water slide-bungee jump-ski slopes-18 Hole Golf Course and 2 lovely
automated wedding chapels
and Reception Patio and Reception Room
HoneyMoon Suite and Cabin and many private romantic rooms
for private times.
California Dreams
is an adult palace, so if you are over 18,
Come and relax with us, have some fun
and maybe even find romance!

California Dreams
has easy to use MAP and ROOM GUIDES to help you
find your way to fun and excitement.
While visiting California Dreams, be sure
to visit our Information Center. Our information
center informs you of our Gods, Goddesses,
and Wizards, who are available to give
you answers to any questions
you may have.



Upcoming events are also
posted in our information center.
Be sure to check frequently,
new things are always happening.



Be sure to visit our adult section-props and rooms-IF YOU ARE 18!!
California Dreams Hotel...click the picture below to go there!!